https://www.tomaticket.es/entradas-alexander-abreu-y-havana-de-primera-malaga
Concierto Alexander Abreu y Havana de Primera en Málaga
Varias Fechas
Sala Eventual Music
C/ Cuernavaca, nº 23 Pol Ind. San Luís (Málaga), ,
Are you a fan of Alexander Abreu?
Discover their latest news, photographs and videos. Leave us your email and don't miss any details.
Concierto Alexander Abreu y Havana de Primera en Málaga
Dentro del panorama actual de la música popular de Cuba, Alexander Abreu y Havana D ?Primera es hoy el grupo de música popular que entusiasma masivamente la crítica y el público. Prueba de ello, lo constituyen los recién recibidos: Premio de Música Popular Bailable y el Gran Premio Cubadiscos 2015, 16 y 17 (toda categoría) que constituyen los más altos galardones a la labor artística y a la calidad melódica de las orquestas de Música Popular en CUBA. Hoy igualmente con la nominación en la categoría SALSA Best Album con CANTOR DEL PUEBLO, su última producción discográfica.
-SALA DE CONCIERTO EVENTUAL MUSIC ( CALLE CUERNAVACA 23, POLIGONO INDUSTRIAL SAN LUIS-MÁLAGA)
-APERTURA 23H
Edad Recomendada: A partir de los 18 años.Recogida de entradas
* Recuerda, el recinto no tiene servicio de recogida de entradas.
* Puedes recoger tus entradas en cualquier Centro de El Corte Inglés con servicio de venta de entradas, en fechas y horario de atención al público.
Las entradas deberán ser recogidas por el titular de la tarjeta que realizó la compra o por el titular de la cuenta PayPal (o persona autorizada por el titular) presentando el DNI y localizador de la reserva.
* Puedes recoger tus entradas en tu propia impresora.
Puedes imprimirte las entradas de este espectáculo. Comprueba que está conectada y tiene consumibles disponibles (tinta, papel,...).

---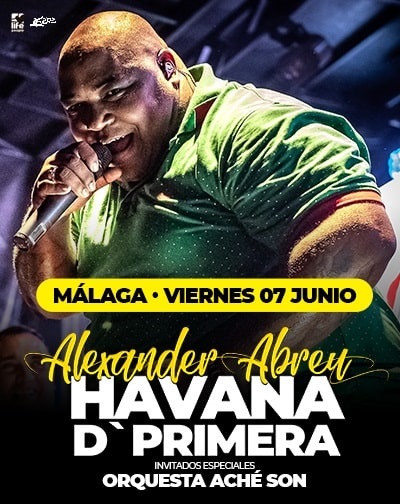 Related artists
Location information
Additional services
Share event