https://www.tomaticket.es/entradas-juan-pena-a-dos-velas-festival-starlite-2019-marbella
Concierto Juan Peña & A Dos Velas - Festival Starlite 2019 en Málaga
Varias Fechas
Starlite Sessions
La Cantera de Nagüeles - Marbella, ,
Are you a fan of A Dos Velas?
Discover their latest news, photographs and videos. Leave us your email and don't miss any details.
Concierto Juan Peña & A Dos Velas - Festival Starlite 2019 en Málaga
Juan Peña, el jerezano autor de ritmos flamencos y rumbas, estará de nuevo Starlite para deslumbrar a los asistentes con su voz, su don de gentes, su cercani?a y su simpati?a. Su último disco de estudio, ?Infinito?, es ya un reclamo que ha situado a Peña como uno de los artistas del momento.
También los hermanos Cuco y Manolo Hernández Polo, y José Romero; miembros del grupo A Dos Velas, asistirán al festival para conquistar a la audiencia con su estilo tan personal y sus pegadizas canciones, entre las que se encuentran grandes éxitos como ?Con la gente que más me gusta?.
Un espectáculo que sin duda hará vivir al público de Starlite 2019 una velada única y llena de magia.
Next Wednesday, August 21st, flamenco lovers can attend a new show at the Sessions stage of Starlite thanks to the performance of the musician and singer Juan Peña; one of the greatest representatives of the Spanish song, and A Dos Velas; incomparable in the art of mixing pop with the Andalusia style.
Juan Peña, the Jerez-born author of Flamenco rhythms and rumbas, will visit Starlite again to amaze the audience with his voice, his presence on stage, his closeness and his sympathy. His latest studio album, Infinito, is already a claim that has ranked Peña as one of the artists of the moment.
Also brothers Cuco and Manolo Hernández Polo, and José Romero; members of A Dos Velas, will attend the festival to dazzle the audience with their personal style and catchy songs, among which there are big hits of all times like ?Con la gente que más me gusta?.
The show will undoubtedly make the audience live at Starlite 2019 a unique night full of magic.Recogida de entradas
* Recuerda, el recinto no tiene servicio de recogida de entradas.
* Puedes recoger tus entradas en cualquier Centro de El Corte Inglés con servicio de venta de entradas, en fechas y horario de atención al público.
Las entradas deberán ser recogidas por el titular de la tarjeta que realizó la compra o por el titular de la cuenta PayPal (o persona autorizada por el titular) presentando el DNI y localizador de la reserva.
* Puedes recoger tus entradas en tu propia impresora.
Puedes imprimirte las entradas de este espectáculo. Comprueba que está conectada y tiene consumibles disponibles (tinta, papel,...).

---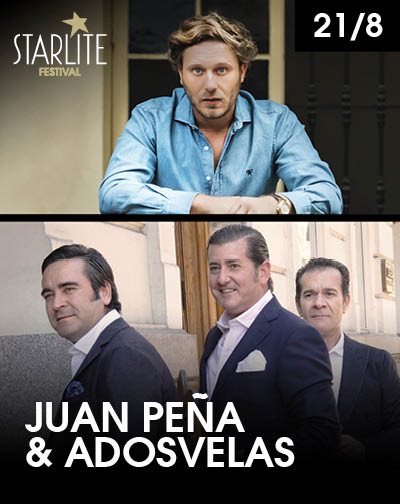 Related artists
Location information
Additional services
Share event