https://www.tomaticket.es/entradas-poetas-del-rock-kiko-veneno-bebe-xavi-sarria-valencia
Concierto Poetas del Rock - Kiko Veneno - Bebe - Xavi Sarrià en Valencia/Valéncia
Various Dates
Jardines de Viveros
C/ San Pío V, s/n - Valencia, ,
Are you a fan of Bebe?
Discover their latest news, photographs and videos. Leave us your email and don't miss any details.
Musica y poesia, son las dos caras de la misma moneda, la que nos franquea las puertas del corazon.
Poetas del Rock nace para dar visibilidad y potenciar esa simbiosis entre musica y palabra, entre cantantes poetas y poetas cantantes.
Despues de algunas experiencias previas, en Ávila,Albacete, Murcia y la sala Repvblicca de Valencia, Poetas del Rock regresa a la capital del Turia a lo grande, dentro de los conciertos de la Feria de Julio.
ARTISTAS Y HORARIOS:
Apertura puertas - 19:30 horas
Xavi Sarria - 20:30 horas
Bebe - 22:00 horas
Kiko Veneno - 23:30 horasRecogida de entradas
* Recuerda, el recinto no tiene servicio de recogida de entradas.
* Puedes recoger tus entradas en cualquier Centro de El Corte Ingles con servicio de venta de entradas, en fechas y horario de atencion al publico.
Las entradas deberan ser recogidas por el titular de la tarjeta que realizo la compra o por el titular de la cuenta PayPal (o persona autorizada por el titular) presentando el DNI y localizador de la reserva.
* Puedes recoger tus entradas en tu propia impresora.
Puedes imprimirte las entradas de este espectaculo. Comprueba que esta conectada y tiene consumibles disponibles (tinta, papel,...).
* Puedes recoger tus entradas en tu movil.
Descargalas a traves de Passbook (iOS) o Passwallet (Android) y asegurate de la disponibilidad del telefono en el momento de acceder al evento.

---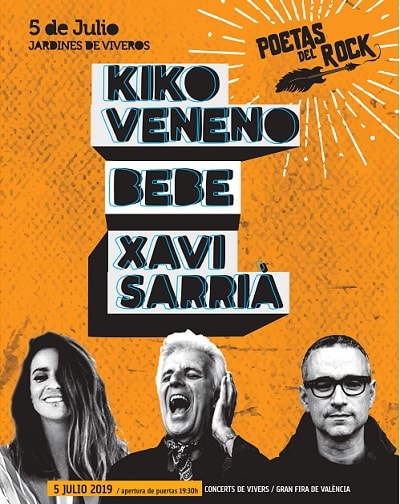 Related artists
Location information
Additional services
Share event