https://www.tomaticket.es/entradas-aitana-play-tour-granada
Concierto Aitana - Play Tour en Granada
Various Dates
Palacio de Deportes de Granada
Paseo del Emperador Carlos V, s/n - Granada, ,
---
Evento no disponible para la venta !!!
Aitana tiene 21 eventos activos en este momento. VER EVENTOS DISPONIBLES
---
Are you a fan of Aitana?
Discover their latest news, photographs and videos. Leave us your email and don't miss any details.
A su salida de la Academia de OT emprendió una meteórica carrera de logros y reconocimientos, que a lo largo de los últimos meses le han hecho batir récords digitales y acumular cifras nunca vistas hasta la fecha en un artista nuevo en Espana.
Aitana ha pasado el último ano inmersa en sesiones de composición y canto, y hace ya meses pudimos disfrutar de su primer EP, Tráiler, que ha sido reconocido con el favor del público y disco de platino. En breve saldrá su primer LP, que es el aperitivo al evento más esperado por sus fans desde que inició su carrera en solitario: la gira Play Tour, que la llevará a partir del verano a todos los rincones de la península.
Como dice ella misma: ?Estoy aprendiendo, estoy disfrutando a cada paso. Play Tour es el espectáculo que llevo meses trabajando para compartir con el público, ese público que siento tan cercano, que me apoya, con quien estoy creciendo y que me empuja a intentar cada día ser mejor?.
Las entradas Golden Premium incluyen:
- Meet&Greet con Aitana
- Entrada preferente
- Backstage conmemorativo
- Refrescos
- Photocall
Las entradas Golden incluyen:
- Entrada preferente Backstage conmemorativo
- Refrescos Photocall
Entradas para Aitana - Play Tour en el Palacio de Deportes de GranadaRecogida de entradas
* Recuerda, el recinto no tiene servicio de recogida de entradas.
* Puedes recoger tus entradas en cualquier Centro de El Corte Inglés con servicio de venta de entradas, en fechas y horario de atención al público.
Las entradas deberán ser recogidas por el titular de la tarjeta que realizó la compra o por el titular de la cuenta PayPal (o persona autorizada por el titular) presentando el DNI y localizador de la reserva.
* Puedes recoger tus entradas en tu propia impresora.
Puedes imprimirte las entradas de este espectáculo. Comprueba que está conectada y tiene consumibles disponibles (tinta, papel,...).

---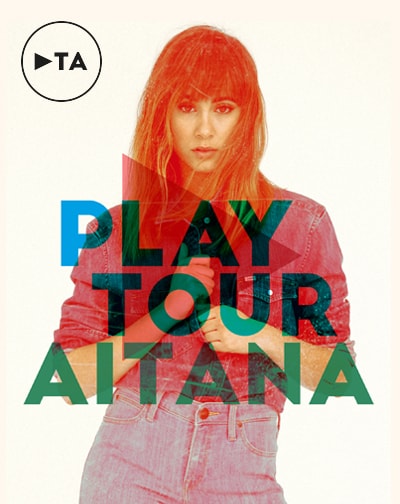 Related artists Location information Additional services Share event